June 10, 2021 @ 7:00 pm – 9:00 pm EDT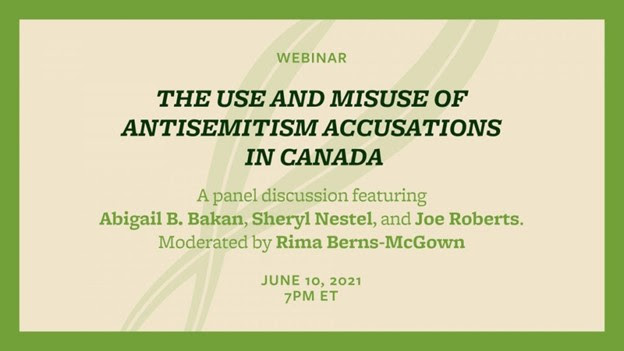 In the last month Israel's grave human rights abuses have received unprecedented recognition and public condemnation in Canada. Across the country we have seen mass protests and demonstrations in many cities, statements by sitting MPs and senators, and the multiplication of calls for boycotts and sanctions. In response, the institutional Jewish community has linked these protests and condemnations to claims that there has been a significant rise in antisemitism, conflating the movement for Palestinian liberation with hatred towards Jews.
Complicating these claims are the isolated incidents of antisemitism which have taken place, some of which have been shown to be false, and others that can only be seen as verifiable instances of Jew-hatred.
How are we to understand the institutional Jewish community's attempts to conflate a liberatory popular movement for Palestine with rising antisemitism? How is antisemitism being weaponized to push back against the growing movement for Palestinian liberation, and how can we work to counter this weaponization while standing steadfast against real antisemitism? What is the political strategy being used in this current moment to attack the Palestine solidarity movement, and how does that strategy rely on faulty assumptions and the structures of racism embedded in Canada?These are some of the questions this webinar will seek to address. IJV is proud to host experts from both academic and political backgrounds to engage these difficult but important topics. By discussing antisemitism, its history of weaponization in Canada, and our institutional Jewish community, the speakers will seek to gain a clearer insight of what is really happening, and what we need to do about it.